The most important safety signs that everyone should be aware of, and everyone should follow the rules to stay safe on the roads. If you fail to follow these road rules, you might get into accidents. So, here you'll see different signs which are fundamental road rules to be followed:-
Regulatory Signs:
Regulatory Signs are primarily in black and white but sometimes red to show danger or a limit, and other regulatory signs can be yellow and black as well. Here are the examples of Regulatory
Signs as follows:-
Speed limit signs: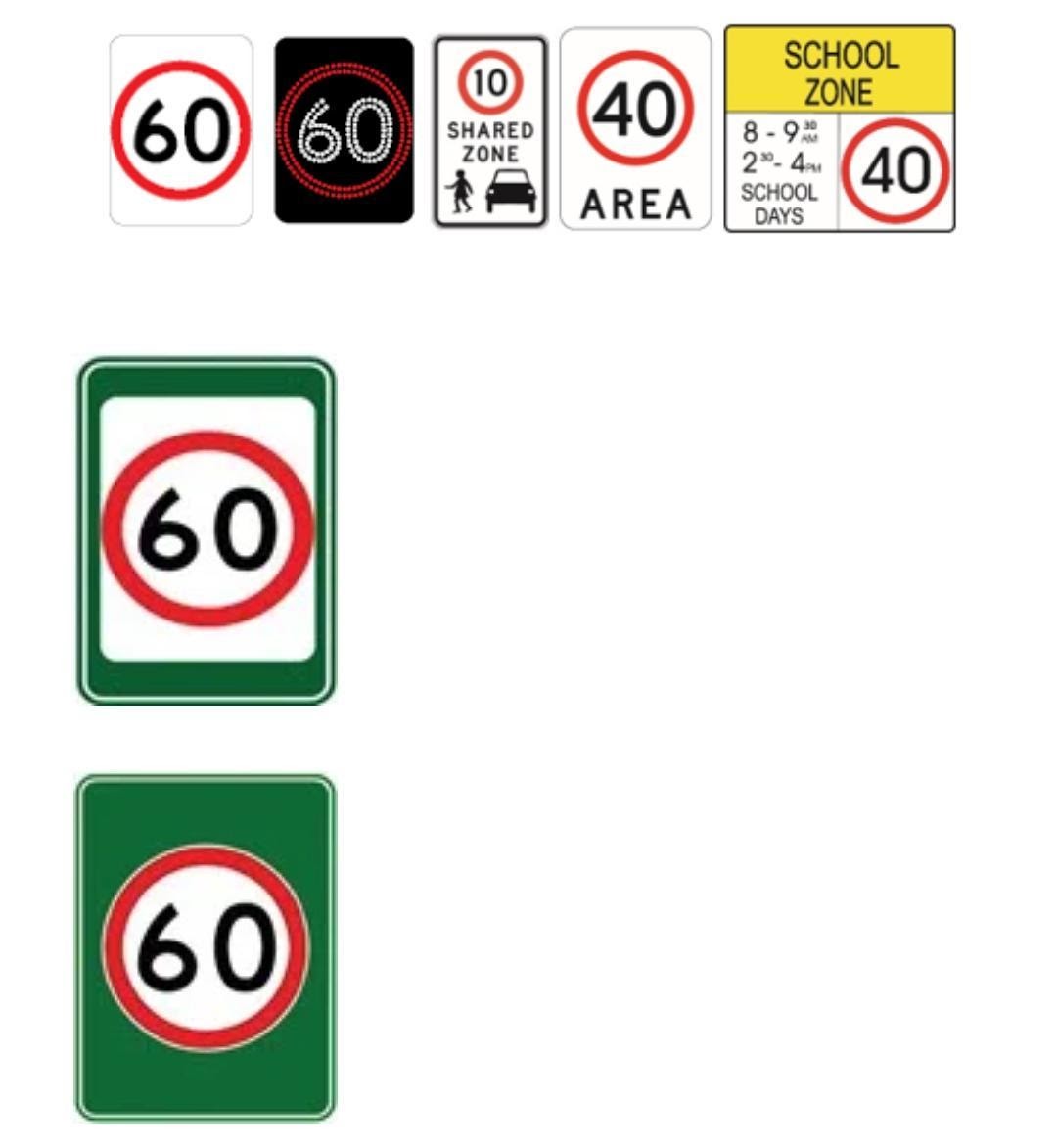 Drivers or riders can be fined and receive demerit points, i.e. demerit point is a penalty point issued to you if you commit a driving offence that has associated demerit points. These points are recorded against your driving record, and the number depends upon the offence you have committed and the license or learner's license you own if you are caught travelling out of the speed limit. If your speed is in excess, you might face license cancellation or vehicle impoundment or immobilisation and to avoid this, always try to enter safe zones or roads.
The following road rules and reference numbers related to the speed limit should be strictly followed to avoid penalties and accidents.
20 Obeying the speed limit

21 Speed-limit where a speed-limit sign applies

22 Speed-limit in a speed-limited area

23 Speed-limit in a school zone

24 Speed-limit in a shared zone

25 Speed-limit elsewhere
The following rule can be read in full within the Road Safety Act 1986.
Part 6A - Impoundment, immobilisation and forfeiture of motor vehicles

Schedule 5 – Minimum suspension periods for excessive speed
Stop and give way signs: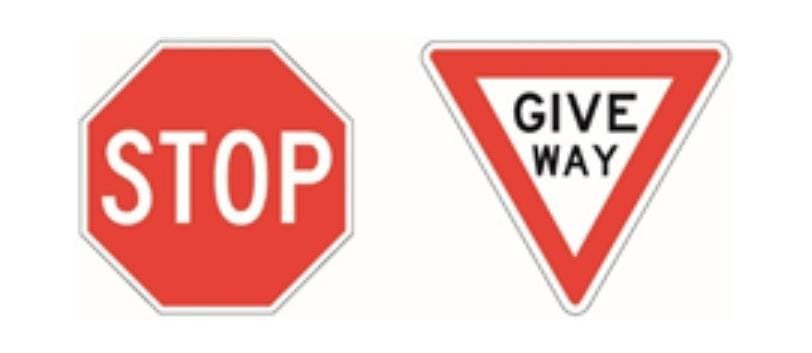 Whenever you see these signs, you must always follow them. Stop when you see this red and white stop sign and give way to other vehicles when you see this Triangular sign with 'Give Way' written on it.
Pedestrian or Children crossing Signs: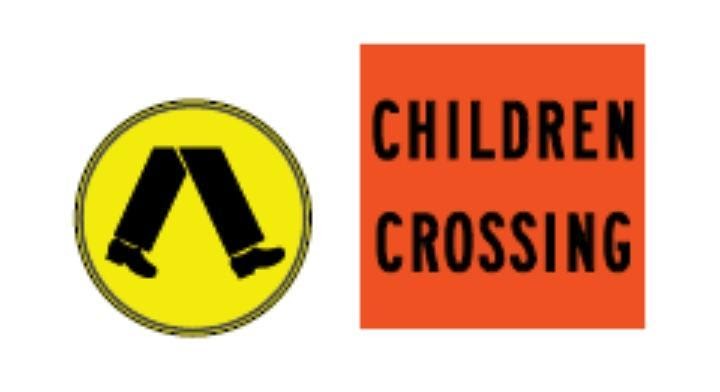 When you see these signs when pedestrians and children are Crossing the roads, you must stop your vehicle right away and let them cross the street.

It'll also help you to avoid accidents or sudden breaks.
Tram safety zone: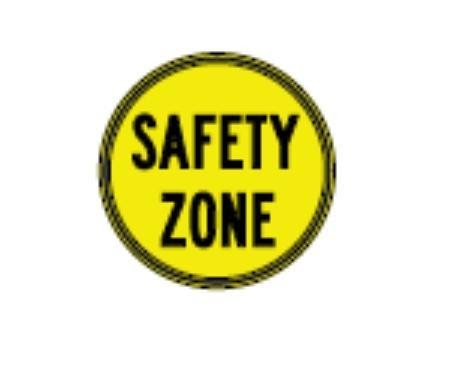 This Safety Zone sign is to be followed by keeping your vehicle slow or keep a watch in the surroundings so that, if possible, that road can be avoided or going slowly and being careful would work.
Keep Left Sign: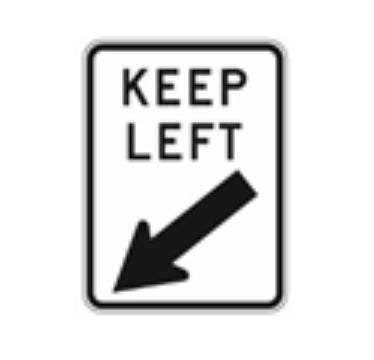 Whenever you see this sign called Keep Left, keep your vehicle a bit slower than the average speed and be at the left side, this will help you avoid accidents.

Warning Signs:-

Warning Signs will tell you that there might be danger ahead.

They are usually diamond-shaped and yellow with black symbols or written words on them.

They aren't giving you instructions like the Regulatory Signs, and they are giving you advice that you need to pay attention to. So, here are the examples listed below:-
Advisory Speed Signs: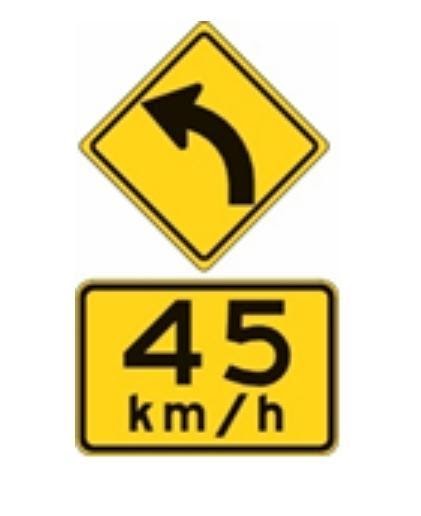 These are the Advisory Speed Signs as shown in the picture above; this means you need to keep your vehicle at a speed limit of 45 kilometres per hour which will keep your vehicle's speed in the limit as the vehicles might take a turn here referring to the sign above it.

Do follow these warnings to avoid crashing vehicles.
Curves and Bend Signs:

These curves and bends are to warn you about the road in this shape.

So when you see such signs, you must keep your vehicle slow so that you can move according to the symbols shown beforehand.

Also, give way to other vehicles on the road to avoid any confusion.
Changing road layout Signs: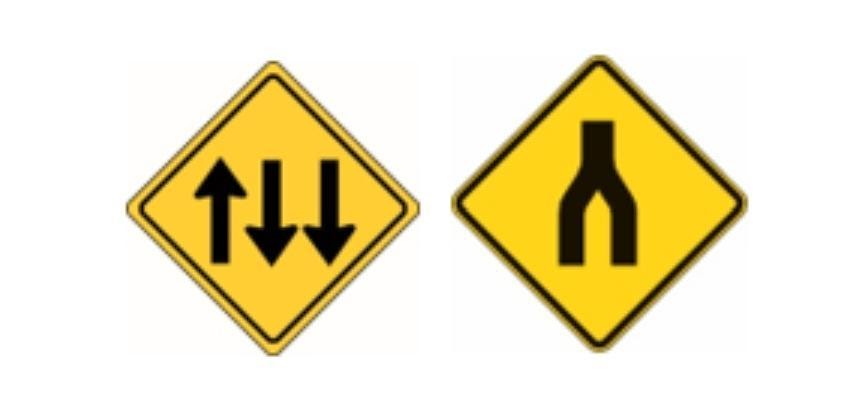 When you see these signs, keep in mind that the layout of the road will be changing, so you must drive accordingly and be careful.

This warns you and will avoid any mishaps that might take place.

Also, keep your vehicle slower while you see these warning signs.
Intersection Warning Signs:

It would be best to be careful enough whenever you see these intersection warning signs because it will help you check the roads and the patterns of intersections.

And also, slowing down while taking these turns will help you drive your vehicle very safely.

Also, sometimes these intersections might confuse you, so it's better to keep your vehicle slow and steady. It might also help people while giving them a way.

Also, these additional intersection signs would help you follow the instructions correctly.
Changing road conditions: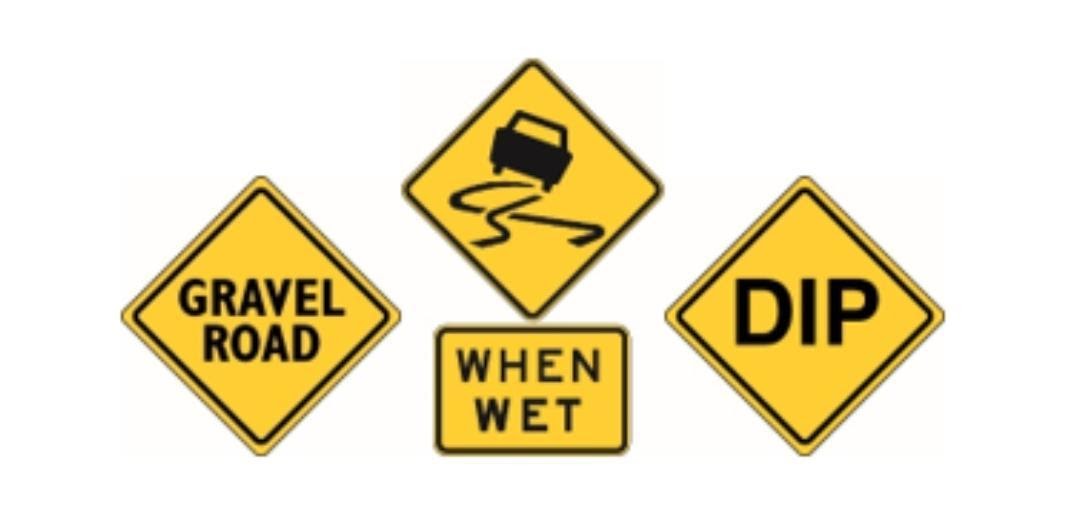 These are the road changing conditions that are conveyed to you through these signs.

Gravel roads are also known as dirt roads which does not has any proper or smooth surface, which isn't safe to travel.

"When Wet" signifies that the road might be wet due to heavy rainfall, which can be slippery and accident-prone for travellers.

DIP sign means that the road is lower at a point which might be very dangerous to travel, so the drivers should slow down their vehicles as the depression in the road can be very hazardous. The speed also should always be in control while you see the DIP Sign.
So here are the essential ten signs to be followed, including the Regulatory Signs and Warning Signs. They are to avoid accidents and keep the pedestrians and the travellers free from any Hassles.
Learning to drive from a local driving school is very important as they will be guiding you through all these road safety rules, and you will be able to move correctly. There is a driving school in Melbourne, Australia, i.e. Darshan Driving School, the most affordable one. They have an excellent and experienced team of professional driving instructors who will teach you manually with ease.